Overview
Approach
Services
Clients
Links
Events
Clients Only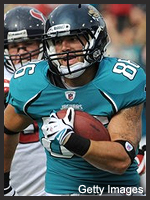 Personal: Zach's hometown is Weston, NE. He attended Bishop Neumann High School in Wahoo and played football, basketball, and baseball. As a senior quarterback for the football team, he set school record with 1,200 passing yards and 980 rushing yards on his way to earning first-team all-state honors. He is married with two children and is the son of Ramona and Buzz Miller.

Professional Career: Though he played quarterback in high school and in college, Miller moved to tight end during his rookie year with the Jaguars. As a rookie, he grabbed 21 passes for 212 yards and 2 touchdowns. He set a team record with a 62 yard catch against the Houston Texans on December 6, 2009, which is the longest catch in Jaguars history by a tight end. He was the first Nebraska-Omaha player to be drafted since 2004 (Ryan Krause).

Collegiate Career: Zach stayed close to home for college and initially walked on to the football team at Nebraska before transferring to Nebraska-Omaha. He was a four-year letterman at quarterback at Nebraska-Omaha and was the team's captain for his final 3 seasons. He finished his career with 4,096 passing yards for 26 touchdowns and added another 3,122 yards on the ground in addition to setting a school-record with 50 rushing touchdowns. He was named the Mid-America Intercollegiate Athletic Association offensive player of the week three times and was an All-MIA second-team selection. He first played tight end at the Valero Cactus Bowl, which is a Division II all-star game held each January. He finished the game with 5 catches for 116 yards and 1 touchdown.