Overview
Approach
Services
Clients
Links
Events
Clients Only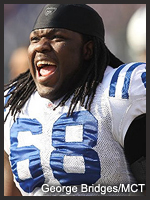 Personal: Eric was born on March 5, 1985 in Homestead, Florida. He starred at Homestead High School and was named to the all-county team at linebacker his senior year after leading his squad to the playoffs. He was also a star basketball player, which no doubt helped in developing his agility on the football field. Add more stuff (parents, siblings, etc).

Professional Career: Eric was undrafted and eventually signed with the Indianapolis Colts as a free agent on May 2, 2008. During his rookie campaign, he played in 13 games, starting in 11 of them. He accumulated 49 tackles and 6 quarterback hurries in his rookie year, and had a season-high 7 tackles against New England on November 2, 2008. In his second season, Eric started 5 games and appeared in all 16 contests for the Colts. He had 43 tackles, 2.5 sacks, and 12 quarterback hurries in 2009 as he helped the Colts reach Super Bowl XLIV against the New Orleans Saints.

Collegiate Career: After completing high school at Homestead High, Eric accepted a full scholarship to play football at Rutgers University in New Brunswick, NJ. He redshirted his freshman year in 2003 and saw action at defensive end in all 11 games the following year. After suffering an injury in 2005 which forced him to sit out the entire year, Eric returned with a fury in 2006. He moved to defensive tackle during that year despite his relatively small stature and would end up leading a tremendous resurgance for the football program at Rutgers University. After the 2006 season, Foster was named to numerous All-American teams; he was awarded first team All-America honors by the Football Writers Association of America and was a third team All-America selection by the Associated Press. He also named first team All-Big East and was awarded the David Bender Trophy, which is given annually to Rutgers' top defensive lineman. At the start of the 2007 season, he was named to the Lott Trophy watchlist; the Lott Trophy is awarded to the best defensive player in the nation.