Overview
Approach
Services
Clients
Links
Events
Clients Only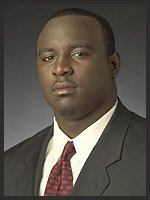 Personal: Originally, Fred is from Little Rock, Arkansas, where he played high school football as a defensive end. During his senior season, he racked up 91 tackles, including nine tackles for loss. He tallied three sacks and three interceptions as a defensive end. He returned an interception for a touchdown to help lead the Tigers to an undefeated season and the 5A state championship. He earned all-state honors and was named to The Associated Press' Super Team and the Arkansas Democrat-Gazette All-Arkansas Team. In high school, he also lettered twice in basketball and track.

Professional Career: Fred Bledsoe went undrafted in the 2008 NFL Draft, but was signed as an undrafted free agent to the practice squad by the Green Bay Packers in May 2008. The following year in May 2009, he was waived from the team. In the 2009 United Football League (UFL) Draft, he was drafted with the number one pick by the Florida Huskers.

Collegiate Career: In his final college season in 2007, Bledsoe has 31 tackles on the season with 4 tackles for loss for 10 yards. He has now had at least one tackle in 10-consecutive games, which is the longest streak of consecutive games with a tackle in his career. He made his first career start at Kentucky and played a career-high 65 snaps.